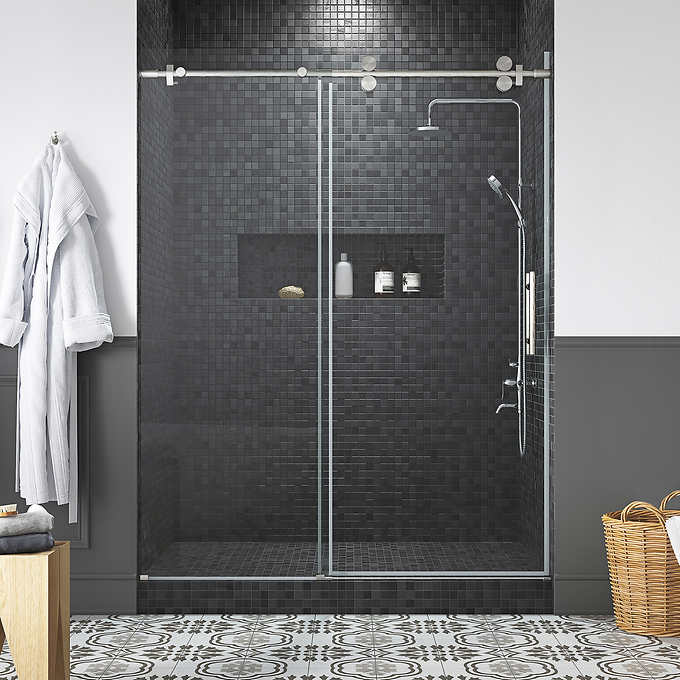 At Yorktown Glass, we specialize only in shower glass doors and enclosures, from design to fabrication and installation. We use only the best quality glass and install the best products available, all at a fair price. A custom shower design can alter the entire look of your bathroom, adding the illusion of a much larger space or adding light for a modern, bright ambiance.
Our designs are built and installed with quality-products by a highly-trained team. We use the latest technology and computer-software to ensure our shower doors and frameless shower doors are perfect – we don't want to meet your expectations; we want to exceed them. We work with our customers through each life-cycle of the project, every step of the way, from pre-planning and design to selecting and customizing the project, through to execution and finishing.
You may choose a frameless or semi-frameless shower door design if you want swivel or hinged doors, or if you are designing around a shower/bathtub combination. Semi-frameless shower doors offer sturdier support for higher water pressure. We offer a wide array of styles and finishes to match your decor, including brushed nickel, pewter, oil-rubbed bronze, chrome, brass and more. We keep most standard sizes of finishes in stock to get your project done quickly.
Frameless shower doors are a modern choice if you'd like to highlight particularly beautiful stone or tile in your bathroom, or if you'd like to create the illusion of spaciousness. Each design is custom and unique, and we measure up to 1/16th of an inch to ensure the best fit possible. We love creative designs and provide many options for glass thickness, tinted or frosted glass, and glass texture.
We specialize in Diamon-Fusion coating, a huge breakthrough in the world of shower glass. Diamon-Fusion is the highest quality coating on the market today, and it protects your glass from spots, streaks, deposits, soap scum, bacteria and anything else it encounters. You'll no longer need harsh cleaning chemicals for beautiful glass. A simple rinse will do.
Contact us today to start designing your dream shower.
Proudly providing shower doors to residential and commercial businesses located in Westchester, Rockland and Putnam Counties, as well as throughout Connecticut.